Four years of wedded bliss!
Four years of marriage is no small feat, and it deserves to be celebrated. After all, you've made it past the threshold of the honeymoon phase and are just beginning to get started on forever.
When celebrating a 4th wedding anniversary, the traditional gifts are flowers and fruit. But there are also modern wedding anniversary gifts that include linen, appliances, and accessories with blue topaz gemstones.
There are plenty of traditions to go for, and some great gifts for each, making these 4th anniversary gifts fun and favorable for your spouse.
1. Chelsea Peers Lemon Print PJs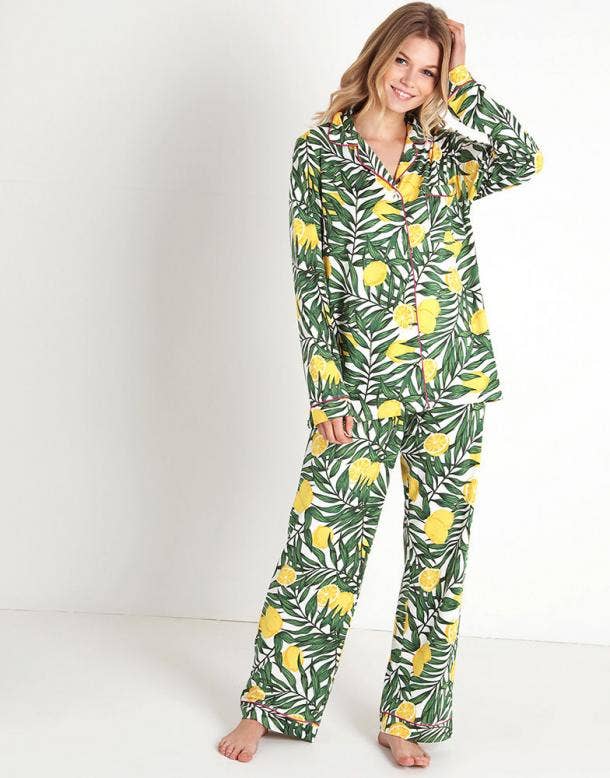 A fun take on the traditional 4th anniversary gift of fruit and flowers, this pajama set features a cheerful lemon print. It's the perfect thing for her to snuggle up on cozy nights.
(Figleaves, $52)
RELATED: 30 Best 10-Year Anniversary Gifts Of All Time
2. Olive & Cocoa Floral of the Month Club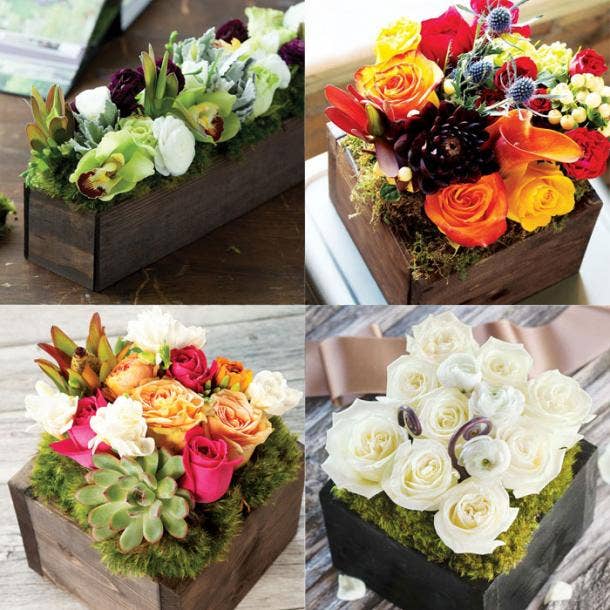 Gorgeous floral arrangements, each exclusively designed in-house and crafted upon order with the freshest blooms of the season in their Salt Lake City headquarters, come in 4, 6, 12 months or ongoing subscriptions.
(Olive and Cocoa, $74-$88/month)
3. Olive & Cocoa Rosso Amore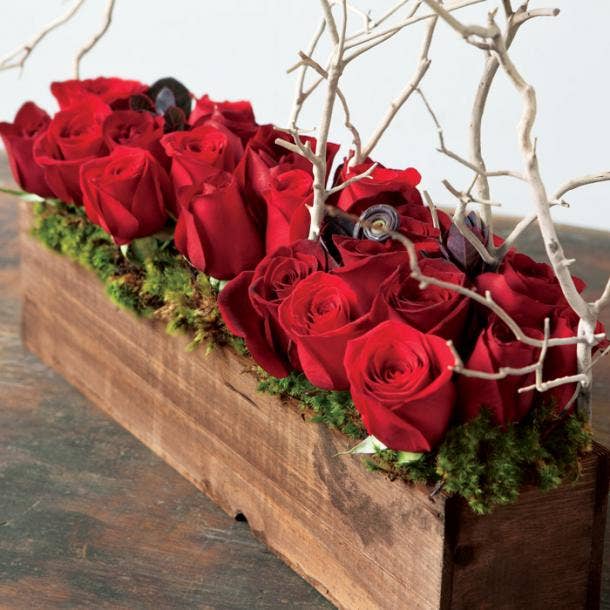 Paired with dark foliage and natural branches, one or two dozen classic red roses come arranged in a long dark stained hand crafted wood trough. Rosso Amore measures approximately 15″ x 4″ x 12″ to top of branches, and each requires next day shipping.
(Olive and Cocoa, $114/1 dozen)
4. Olive & Cocoa Naturally Delightful Crate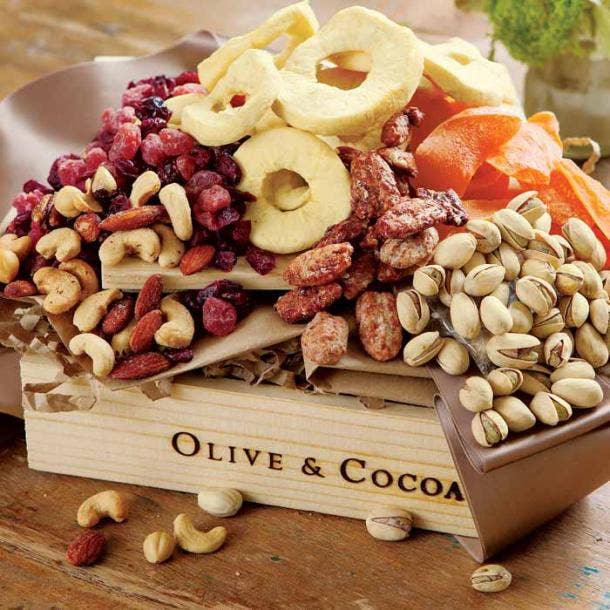 A perfect pairing, this gift combines hearty nuts with wonderfully chewy dried fruits. It includes mixed nuts, pistachios, sweet toasted pecans, dried strawberries and cranberries, apples, and mango. All arrive gift-wrapped together in a hand-crafted wood crate with ribbon.
(Olive and Cocoa, $64)
5. American Blossom Linens Classic American Organic Cotton Sheets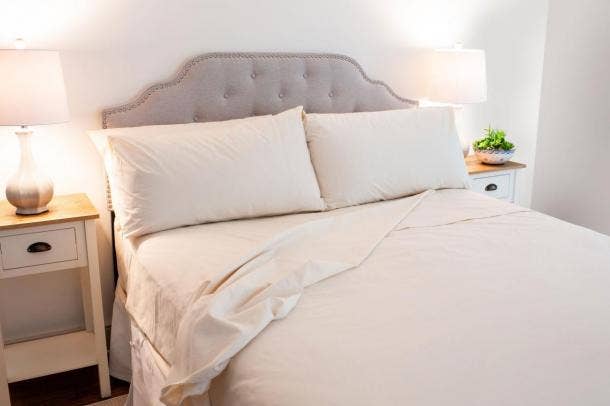 This product feels soft, allowing you to have a very restful sleep. It's also environmentally friendly, pure, chemical free, and woven to last a lifetime. Every Queen and King set comes with 4 pillowcases to make sleeping and whatever else you do on your anniversary night more pleasurable.
(American Blossom Linens, $229)
6. Engraveable Filigree Heart Pendant with Birthstones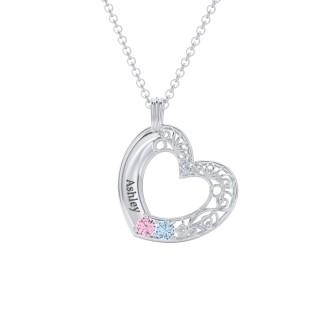 Enchanting filigree pattern and sleek finish on the dainty heart charm make this a special keepsake to celebrate this exciting milestone. Add custom engraving and genuine or simulated birthstones to represent you and someone special for years to come.
(Jewlr, starts at $94+)
7. Thea Necklace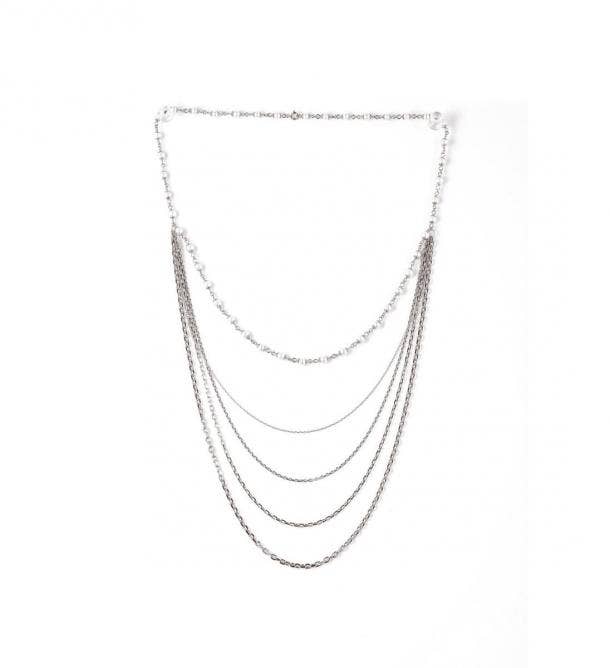 The Thea Necklace is a great gift to celebrate four years of being together. Beautiful layers of classic chains with pearl detail make this necklace perfect for wearing to any outing to celebrate this special time. It's made with sterling silver plated 18k white gold, yellow gold, and freshwater pearl.
(The 9th Muse, $344)
8. Admiral Faux Leather Double Bottle Brown Wine Tote by Viski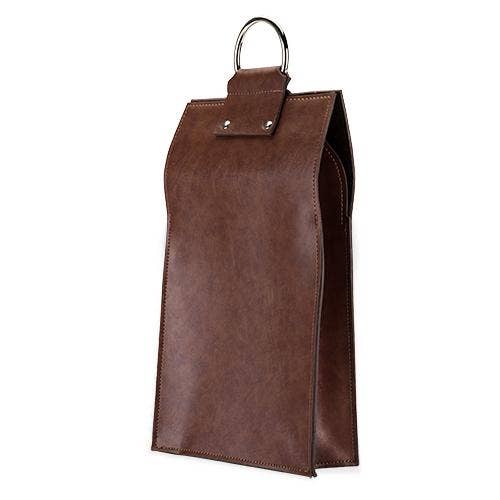 If your partner is a lovable wino, treat them to the Leather Wine Tote from Viski. No need to lug around the happy juice in plastic bags; slip those sweet bottles right into the comfort of their own secure faux leather carrier with a velvet cushioned divide.
(Viski, $47.99)
9. Raye Dipped Crystal Wine Glasses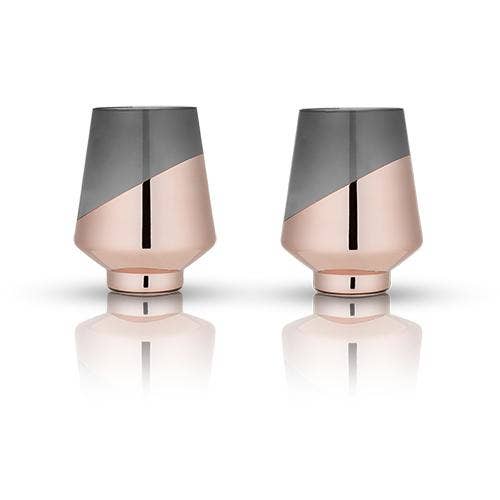 These posh wine glasses feature polished copper curves, adding a vestige of metallic intrigue to an already elevated set of glassware. Fashioned from lead-free colored crystal, each tumbler accommodates 16 oz., making them exquisite containers for your favorite, carefully selected vintage.
(Viski, $43.99)
10. Coddle Chair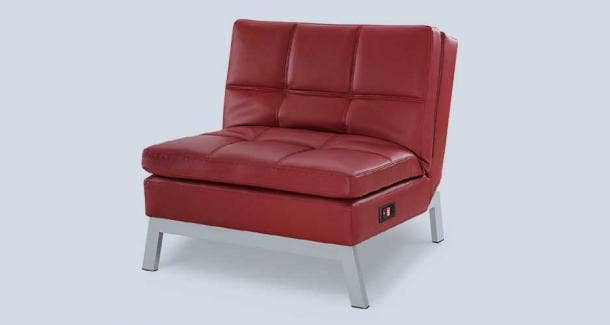 Take your lounge room to the next level with the Coddle Chair. It features 3 adjustable positions and 2 built-in USB ports with. Couple with the Coddle Ottoman to kick your cuddle up a notch.
(CoddleMe, $599)
11. HUROM H101 Easy Clean Slow Juicer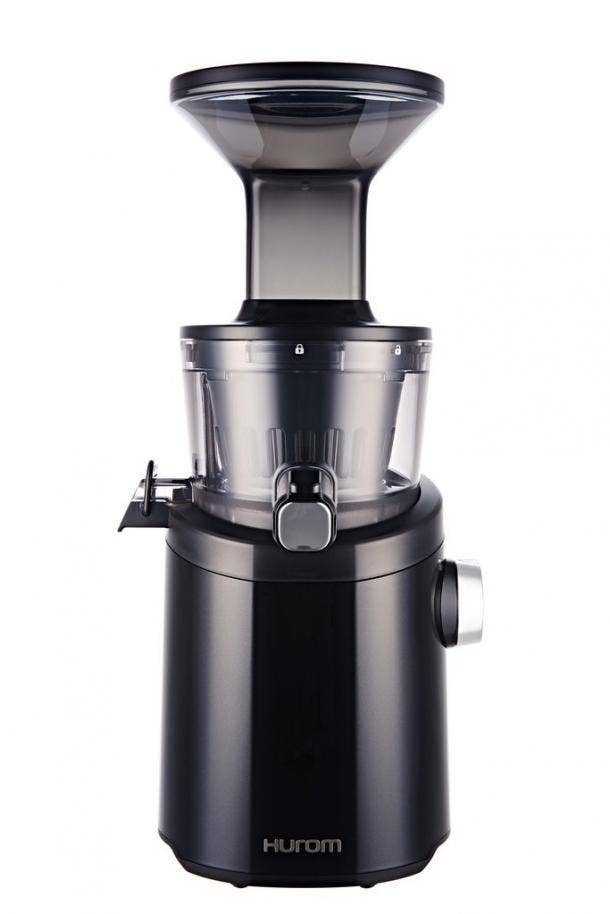 Perfect for staying healthy as a couple, the H101 Easy Clean Slow Juicer rotates at a speed of just 43 revolutions per minute to mimic the motion of a hand squeezing juice, and can make everything from cold-pressed juices and smoothies, to nut milks and more.
(Hurom, $499)
12. Habitation Box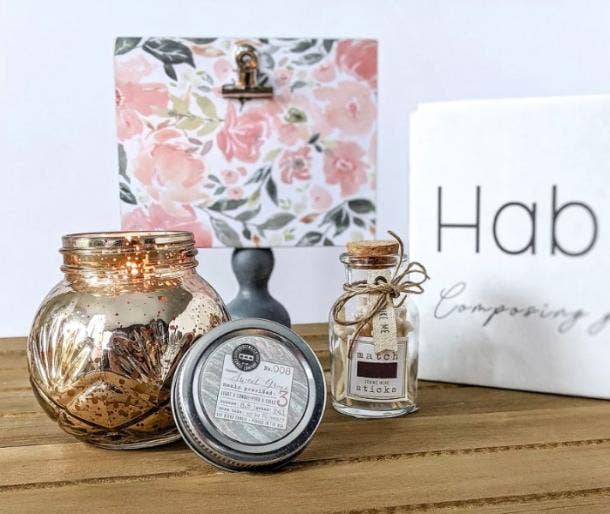 Habitation Box makes a wonderful gift because home decor enhances your home and makes your home feel like you built it together. Acquire objects that belong to you both as a couple, rather than one or the other.
(Habitation Box, starts at $55)
13. Ai Dogwood Pendant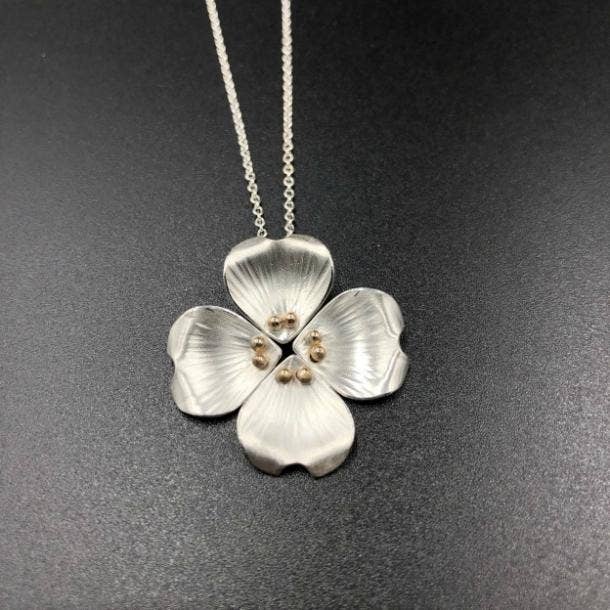 Carry a little bit of springtime with you everywhere you go with this dogwood flower necklace. It's made from sterling silver and gold filled wire, and the pendant is 1-inch wide and hangs on a 17-inch chain.
(Balefire Goods, $216)
14. Jamie Hollier Flower Ring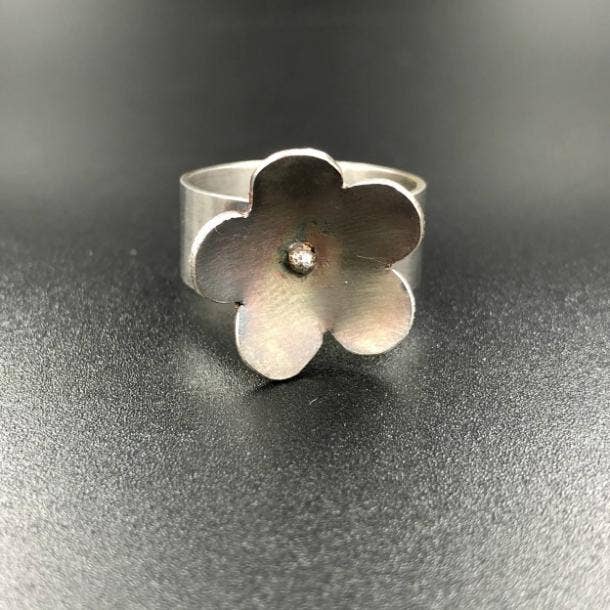 This is a sterling silver flower with an oxidized patina that sits atop a sterling silver band. It's handmade in Denver, Colorado, and the flower is 5/8 inches wide.
(Balefire Goods, $66)
15. Smeg Espresso Machine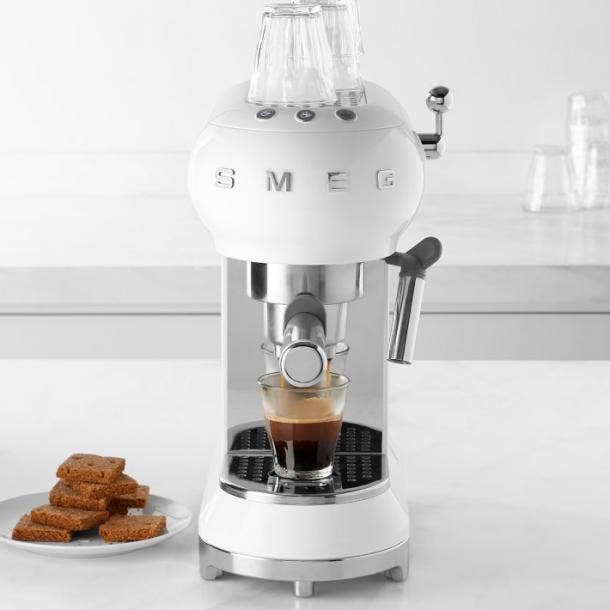 For the espresso lover, look no further than the SMEG Espresso Machine. This slim machine brews a rich shot (or two) of espresso and steams milk for making a velvety cappuccino. Every time you enjoy your morning cup of coffee, you'll be reminded of your fourth anniversary.
(Williams Sonoma, $459.95)
RELATED: The Best Traditional Wedding Anniversary Gifts By Year (From Your First Anniversary To Your 50th)
16. Smeg Stand Mixer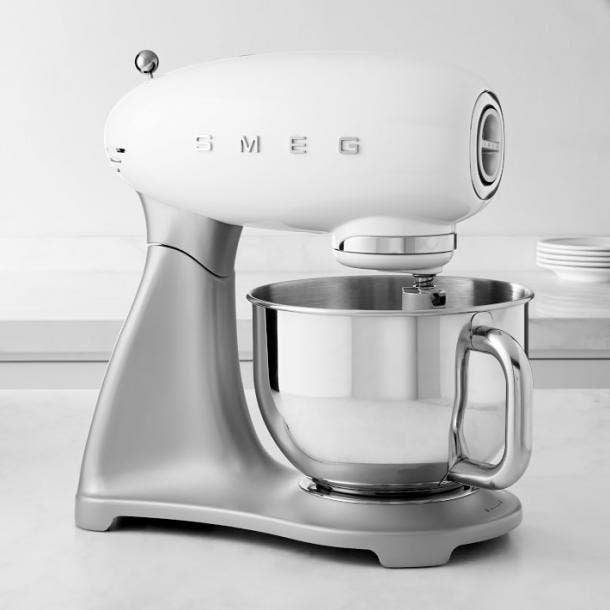 The SMEG Stand Mixer is perfect for the pair with a sweet tooth. Powerful and easy to use, this mixer comes with three mixer attachments for whisking, beating and dough-making. With ten adjustable speeds and a smooth-start function, it's ideal for the most avid of bakers.
(Williams Sonoma, $459.95)
17. Taste of First Step Aged Tea Tasting Experience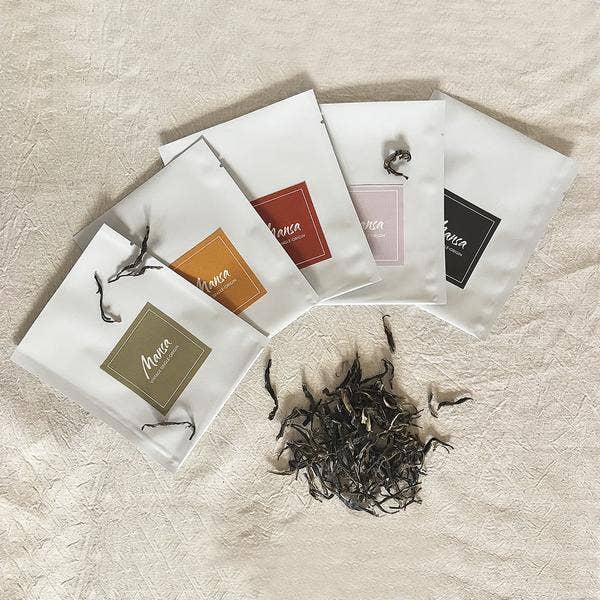 Why not prepare a small gift that both can experience together? Mansa Tea's aged tea tasting experience provides a unique set of aged teas to pair with your dinner or for your post-dinner tea session.
(Mansa Tea, $32)
18. M.M.LaFleur Marquise Studs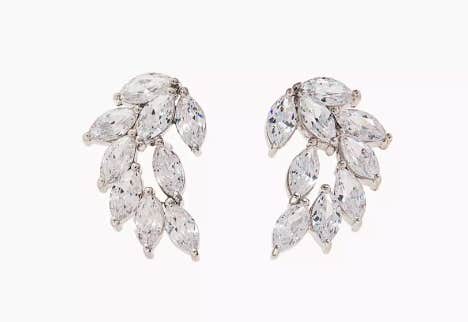 Diamonds are a girl's best friend, but diamonds are also a major investment. In lieu of burning a hole in your pocket, opt for these stunning 4 carat showstopper earrings (a carat for every year). They are crafted from marquise-cut CZ stones set in rhodium-plated silver.
(M.M.Lafleur, $195)
19. Lulu DK Chloris Necklace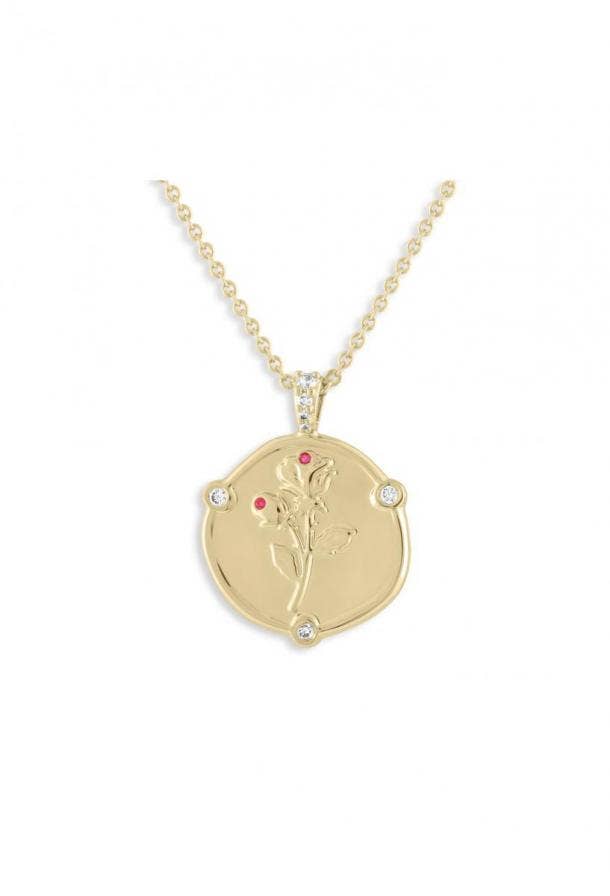 With a traditional anniversary gift of flowers for year 4, give her this beautiful pendant necklace with a rose that will last the lifetime you'll be with her.
(Lulu DK, $82)
20. Soul Journey Fairy Tale Bracelet Bundle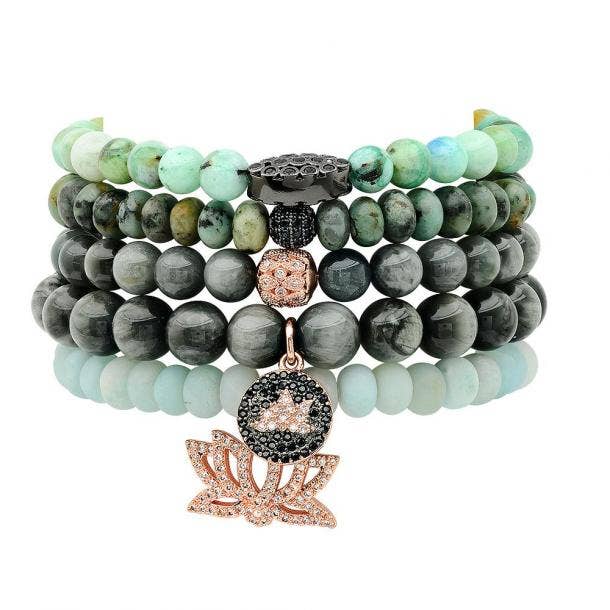 Like the name of this bracelet set, if she is the perfect fairy tale ending to you, this is the gift for her! And with green being the color that represents the fourth year of marriage, it's even more reason to surprise her with it on your anniversary.
(Soul Journey Jewelry, $98)
21. Bridal Bouquet Painting Replica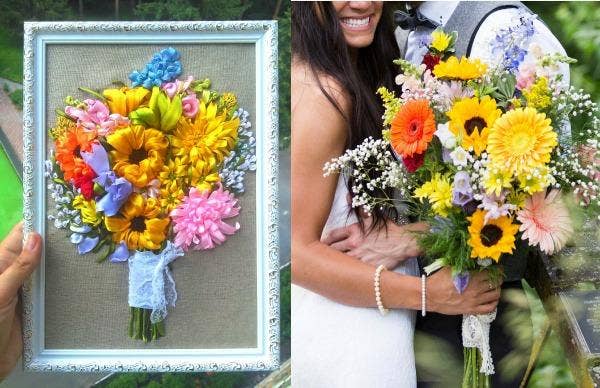 This embroidery bouquet was inspired by your wedding flowers. This will be a romantic keepsake for yourself or a unique anniversary gift.
(Etsy, $77.85+)
22. 4 Year Anniversary Everlasting Rose
Each rose comes with a recycled personalized stamped gift tag tailored for each anniversary year, with the rest of the tag reading "everlasting rose… when the last petal withers is when I will stop loving you."
(Etsy, $34.99)
23. Handmade Linen Rose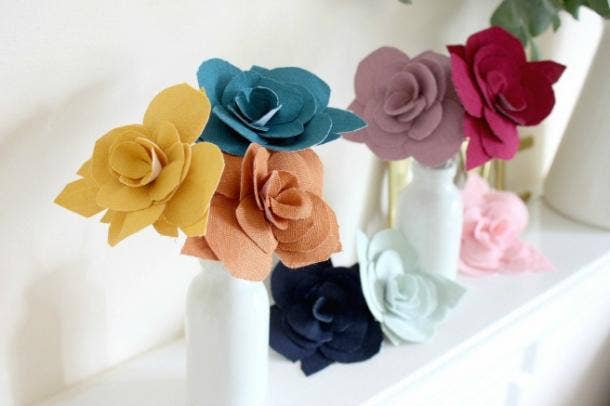 Give this handcrafted linen rose to your special someone to celebrate your anniversary. Each flower has been made by hand using UK sourced, 100 percent linen fabric, stiffened with interfacing on the underside.
(Etsy, $16.91+)
24. 'Level 4 Complete' T-Shirt
A funny gaming t-shirt for married gamers that reads "Level 4 Complete" in retro distressed vintage text, with a graphic of a video game controller!
(Etsy, $21.50+)
25. Personalized Song Lyric Anniversary Gift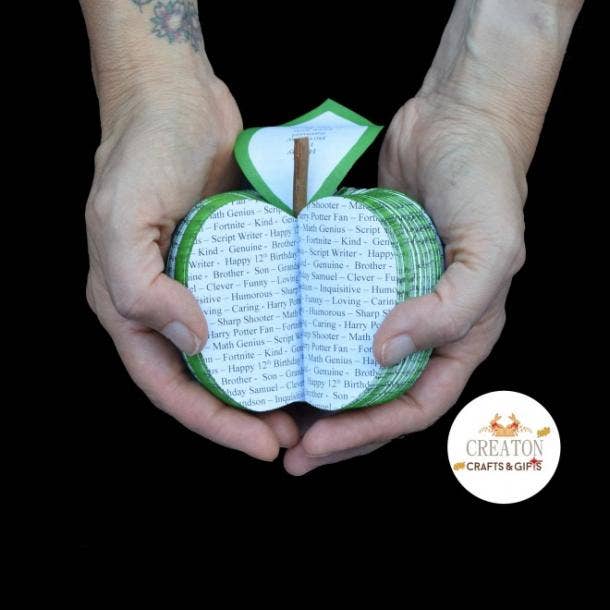 Create your own unique wow factor gift with this Personalized Apple gift made entirely from your words. You can also choose different fruits, including an orange, pear and lemon.
(Etsy, $53.34+)
26. 4th Anniversary Fruit Rose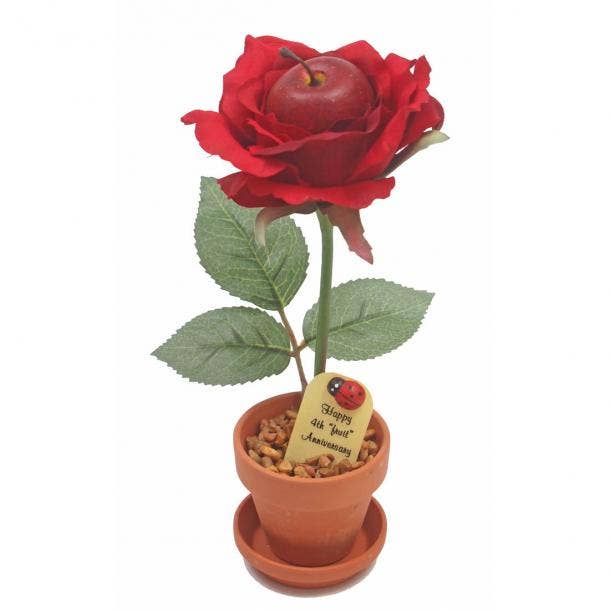 What could be a more appropriate gift than fruit ? It's gender neutral, so either spouse can get it, and it stands at about 7 inches tall. And the best part is that it will last forever.
(Etsy, $23.46)
27. 'After Four Years…' Mug
This is a super-cute and nostalgic four year anniversary gift idea. Why not get her a mug she can use every day?
(Etsy, $14.98+)
28. Custom Linen Tray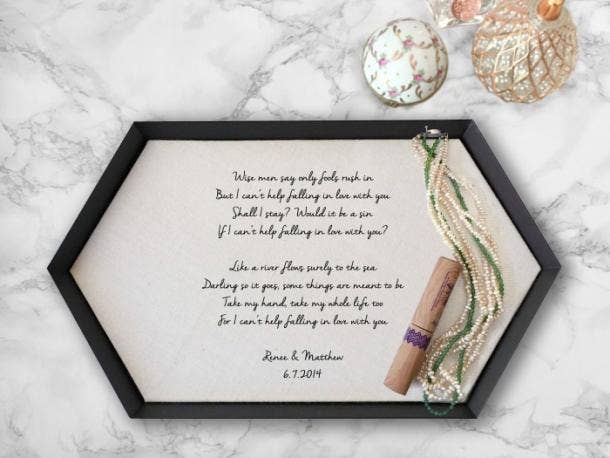 These modern, stackable trays are personalized with your special wording on natural linen.
(Etsy, $69+)
29. Tiny Box of Date Nights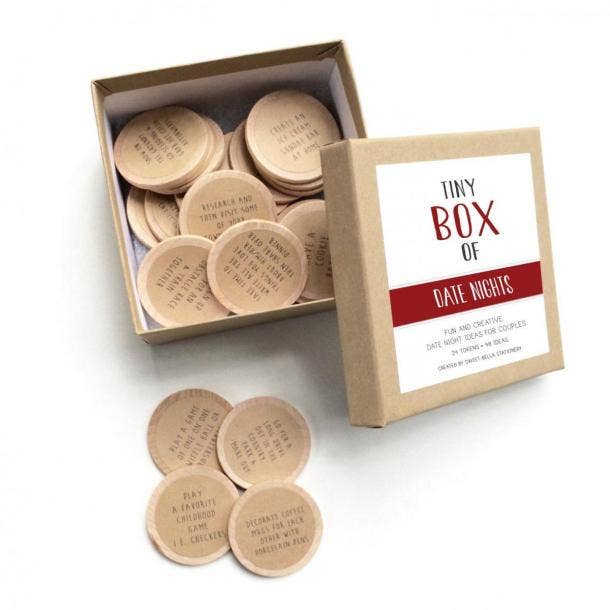 Each recycled kraft box measures 3.5 x 3.5 inches, and comes with 24 solid wood tokens and 48 date ideas. Each token measures 1.5 inches and is labeled with a fun/creative/romantic date. Pull a token from the box and you have a lovely idea for a date with your significant other.
(Etsy, $18.50)
30. Scratchable World Map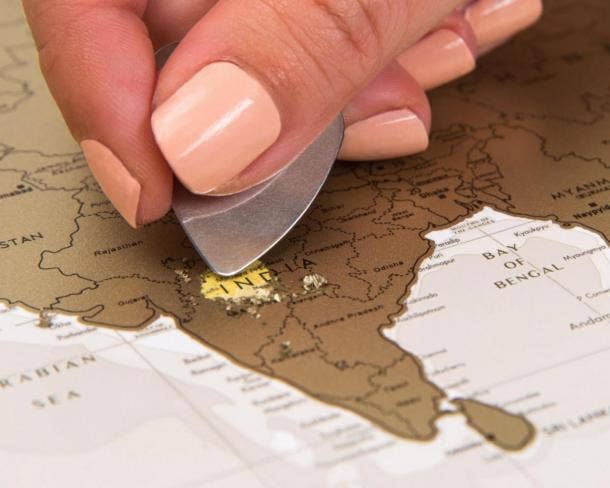 When you rub off the upper gold foil layer of the countries, states and provinces traveled to, underneath you will find a wonderfully detailed map in a modern design. With over 10,000 different cities and places to mark, the included push pins help to denote visited cities.
(Etsy, $39.99)
RELATED: Why Anniversaries Are So Important (Plus, 6 Meaningful Ways To Celebrate)